CAST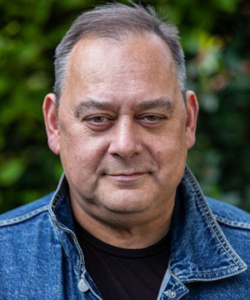 Nigel Pivaro
Nigel was born in Manchester, England.
After attending The Royal Academy of Dramatic Art, 79 – 81 Nigel made his professional acting debut in Short of Mutiny at the Theatre Royal, Stratford East, Stratford, London in February 1983.
Later that year Nigel made his TV debut in Coronation Street as Terry Duckworth, the wayward son of Jack and Vera.
Despite securing a regular role in the show Nigel left of his own choice in1987 to pursue a variety of roles in the theatre.
Nigel has returned to the "The Street" no less than 10 times for some of the shows best story lines eventually clocking up 400 plus episodes.
The character returned most recently in early 2012.
Nigel also appeared in the television series Hetty Wainthropp Investigates as PC Pearce and Expert Witness as killer Colin Wardle. He also appeared in The Sunny Side of the Street for Channel Four the film 24 Hour Party People and Nightmare in Suburbia
Nigel's many theatre credits include, Wuthering Heights, What the Butler Saw, A Taste of Honey, The Tempest, Greek, An Evening with Gary Lineker, Funny Peculiar, A View from the Bridge and Up and Under, and a sell out tour in 2003 with John Altman in the play Bouncers.
In 1987, Nigel won the Edinburgh Festival Fringe 1st in the play No Further Cause for Concern. He has appeared in over 15 pantomimes.
He graduated from Salford University with a 2:1 Honours degree in Contemporary Military and International History in 2003 followed by a Masters in international relations from the University of Wales in Aberystwyth
and Nigel became a journalist in working for the Manchester Evening News and The Tameside Reporter, before becoming a freelance, published in the Daily Star, Daily Mirror, Sunday Mirror Daily Express and Catholic Herald newspapers. Die Zeit Online and Jane's Defence Review.
Nigel has written and presented several documentary films for the BBC Inside Out series, including "Regeneration Game"(2007) which was short listed for a Royal Television Society award in the best Current Affairs programme category. He is a regular contributor to the award winning Salford Star Magazine.
Recently Nigel has returned to acting and recorded a radio play Eastern Star for Radio Four.