The Story: From Page to Stage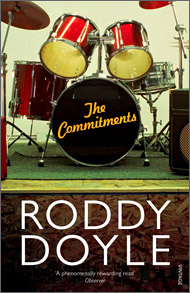 Because of the success of the book and subsequent Oscar nominated 1991 film, the remarkable story of how The Commitments came to be published has been lost.
Roddy Doyle and a friend, John Sutton, initially self published the novel in 1987, funded by a £5,000 loan from Doyle's bank manager.
Doyle remembers, "If I'd wanted £5,000 for a car there'd have been no problem but because it was for a book the bank manager insisted on a business plan. There was more fiction in the business plan we submitted than the book itself."
The initiative shown in self publishing won The Commitments reviews in leading newspapers but it wasn't well received by Irish music bible Hot Press. "There was a really hostile review in Hot Press and a lot of music press people didn't like the book."
One of the 4,000 books printed had, however, found its way into the hands of one influential reader.
Doyle says, "Elvis Costello lived here in Dublin at the time and he wrote an article and said "If you want to know what it was like being in a band when I was a kid, just read The Commitments." I didn't know he was going to write that, so that was a great day."
After that the book built into a cult hit and was picked up by Random House.
On adapting the story for the stage, Roddy Doyle says:
"I hadn't planned to write it myself but then I did. I really enjoyed it. We had met with a number of impressive writers but I found I was answering all the questions the producers and I were asking them. I told my wife "I'm thinking I might have a bash at the script myself" and she said "You took your time."
He continues "The biggest challenge was finding the way to tell a musical story about a group of people who can't play their instruments and who aren't a band. How do you get music in there from the very beginning?"
On selecting the songs for the show Doyle says:
"I wanted to go for well known songs, but also there to be a few surprises in there. Soul often isn't about the song itself, it's about the way it is sung or how it's interpreted. The songs were chosen because they help tell the story."
The show is packed with great songs but is also repeatedly laugh out loud funny. Doyle says:
"It was always going to be a comedy, it's about a band so it doesn't touch on life or death, you can say 'music is life and death to me', but it's not. Music is fantastic and seem like it's your blood but it's not."
Since finishing the script for the show Roddy Doyle has taken up the trumpet, perhaps inspired by revisiting the story.
"I didn't just pick it up and start playing it. It's a hard arduous, physical task and I'm exhausted playing it and I felt again a bit like a kid. I was snoring badly and my wife Googled and found that one of the ways to cure snoring is to play a wind instrument. Unfortunately I'm still snoring, so I destroy her waking hours as well as her sleeping hours."